Special Bonus Slots Casinos
There are over a dozen more online casino game developers than the ones most frequently mention on this site, here we mention a couple worthy of review for some of their most attractive special bonus slots, but definitely the slot developer that stands out from the bunch is Microgaming.
Microgaming Special Slots – Highest Paying
Considered one of the largest and top online casino providers in the world (others will say this honor goes to RTG for their vast community f partnered casinos and amount of games provided), Microgaming has been around since the 90´s and almost as long as Rival Gaming. Their name remains in the known thanks to the amount of traditional online casinos that still host their games, but the firm has failed to move at market pace by innovating in 3D slots as fast as other game developers that include forward storytelling and game-player interaction. Their theme design is still as basic as it was in the 90´s and their slots are known to offer little perks in terms of bonus games. Nonetheless, if you make a little search on "highest paying slots" Microgaming slots will be the most common result. Their pay out rate is over 95% in many of their games with more $400 million USD given to players over the years. From more than 600 games here are a few online slots players mention to have the highest paying rate in the market.
Big Break Slot – Microgaming´s Recommended Game
15 lines and 5 reels with Wild, free spins, a modest jackpot of 10,000 coins and scatter pay out. The payout percentage of Big Break slots is 95% to 96%. The themes is modern with 5 funky apes surfing with several bonus rounds like Lucky Break, Big Break, Surf´s Up and Munky Wax Free Spins. The bonus games is a pick and choose with a maximum pay of 50x while the free spins total 15.
Net Entertainment Special Bonus Slots
Since Net Ent came to life back in 1996, the company has won several awards for its innovative graphics, themes and cutting edge features. Their alluring 3D graphics, realistic textures, superior sound effects and mobile casino capabilities make them one of the best selection for the present modern days, and they are definitely rising to the top along Betsoft and WGS.
Piggy Riches Bonus Slot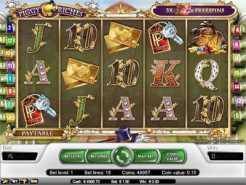 Piggy Riches stands amongst one of three preferred slot games of Net Ent players. The game has mixed reviews between players, but the bonus prizes are good enough. The theme is about a couple of rich piggy's and their exuberant lifestyle. Mr. Piggy is a wild and carries a 3x multiplier while Lady Pig is the scatter and provides free spins plus a multiplier payout. Piggy Riches slot game only has two features. Mr. Piggy who is wild and comes with a 3x multiplier and Lady Piggy who is the scatters and gives free spins and multipliers. Mr. Piggy is the money makes with 10x to 20x depending on how many lines you bet. Ms. Piggy can give up to 26 free spins with a 6x multiplier. Even if the bonus rounds are not triggered with the maximum bet, players cane expect a decent return in most plays. 15 free spins and 3x multiplier is an average player hit, which is more than good compared to other slot games were this is the highest possible bonus bet.
Playtech Casinos Bonus Slots
Playtech is a top favorite in Asia thanks to hosting online casinos like Indio Casino. Established in 2001 with a complete portfolio of games highlighting its live dealer feature, progressive baccarat jackpot, Marvel themes slot games and record paying slots.
Beach Life Slot, One of the Highest Porgressive Jackpots $6.5 Million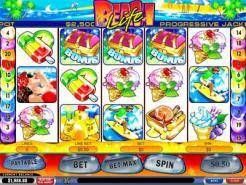 Beach Life, a progressive jackpot slot game that has seen tremendous payouts topping over $6.5 million on some occasions. It has even been called ranked into the 10 most favorite online slot games for its millionaire jackpot, one of the largest in the entire industry. A 20 line, five reel that can be played in some of the most popular casino sites like Bet365. The sandcastle scatter can pay up to 500x and 5 sun Wilds activate the progressive jackpot of 6.5 million.